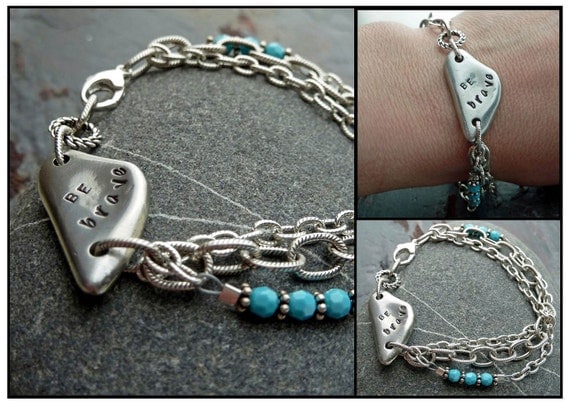 I am working on my taxes today..well I should say I am doing everything in my power to be distracted from my taxes like posting this to my blog...lol
There are many things in life we wish to avoid for one reason or the another but we cannot hide from "it" as "it" becomes a heavy burden that lingers waiting behind every corner...
We need to pull on our brave boots or in this case "put on your "Be Brave" bracelet.
The inspiration behind this design is that we have the strength within to face any situation when we embrace the concept of being needing to brave and owning our brave moment.
The main charm is lead-free pewter accented with oxidized chain, silver clasp and turquoise colored Swarovski crystals.
We can achieve anything with a slight change in our perception..perhaps a new pair of glasses to change the shades we see...could help..right..:)
So..here I go...off to complete my taxes..so I can create again!
Thumbs up to all those whom have completed your taxes...
Do you do yours early or procrastinate to the very last days? Tax tips are always welcomed..:)
For your personal inspiration...this bracelet can be found here
:
Be Brave Charm Bracelet